The Aalen Friends of Optometry e.V. surpassed itself with the outstanding program for the Alumni-Event in Benediktbeuern at the first July-weekend 2022. The program is full of top-class professors from the USA and Germany. Prof. Diane Adamczyk from the State University of New York, expert on the study-field "Ocular Pharmacology" will present her latest results. Prof. Hannu Laukkanen and Prof. Graham Erickson from the College of Optometry of the Pacific University Oregon will talk about their gained knowledge about their field of expertise "Strabismus" and "Traumatic-Brain-Injuries". On top of that is also Prof. Bina Patel from the New England College of Optometry, Boston, who is very active and committed at the master program of the University of Aalen give a presentation about her favorite topic "peripheral retinal degeneration". Moreover it is a huge honor for the students of Aalen that even Prof. Dr. Frank Schaeffel from the University of Tübingen is following the invitation of the chairman of the Aalen Friends of Optometry e.V., Georg Scheuerer. And on Saturday evening is a big party with the theme "Oktoberfest", which is organized by the current students. It is a perfect theme for the amazing location in Bavaria, the monestary in Benediktbeuern. 
---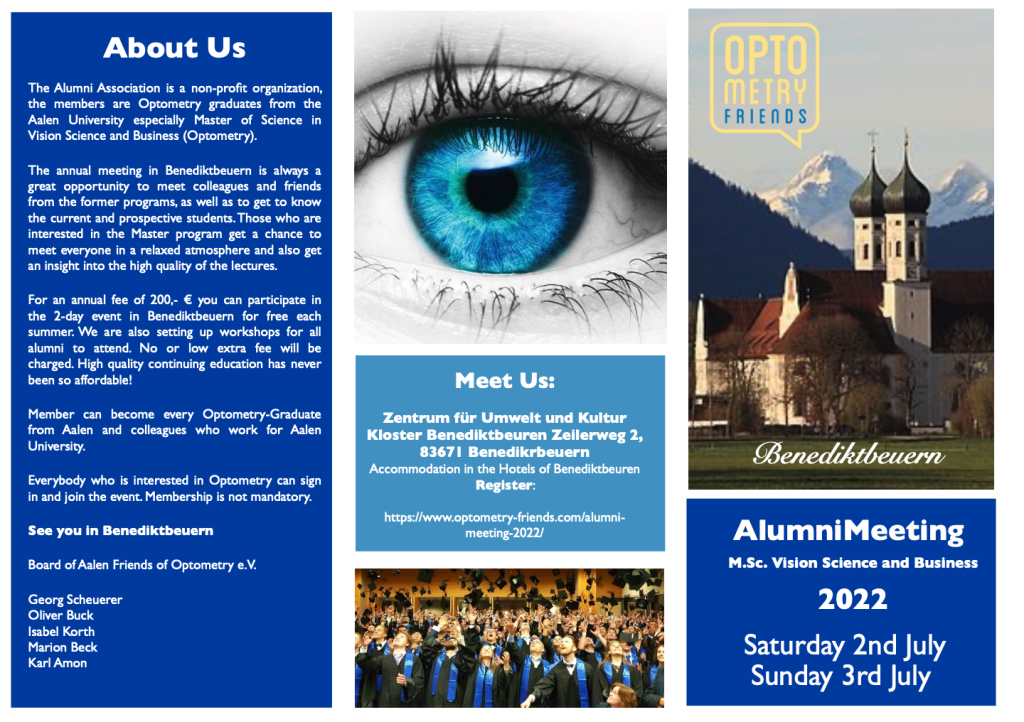 ---
---
Did you get interested in hearing the presentations and joining our event in Benediktbeuern? We are looking forward to welcome you there too!
You can register here!
---
Are you also interested in becoming part of our international network of optometrists and want to practice optometry on the highest possible level! Don't hesitate to contact us and apply here!